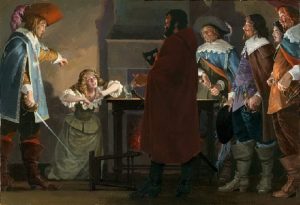 Many in adolescence were read by the works of Alexander Dumas, and especially the novel "Three Musketeers", filled with adventures and historical events of 1625-1628, as well as entertaining illustrations. Next year, the novel will celebrate 175 years, during which artists from different countries have repeatedly illustrated it. One of the best publications is considered an anniversary edition – to the 50th anniversary of the novel with masterpiece illustrations by the French artist Maurice Leloir. But after so many years, contemporary artists also do not bypass the immortal creation of Alexander Dumas. Continue reading →
They worked in the harsh conditions of socialist realism, but paintings with farmers and tractors are not their style. Their paintings were crushed by bulldozers, not allowed to go to exhibitions, forgotten for many years. Some of them were lucky, and they received professional recognition, participation in exhibitions, posters mentioning their names … but few today remember their work. Artists of the Soviet era combined art and family – or preferred the workshop to a family hearth, searched for their own path, fought, dreamed … and, of course, did it.
Alexandra Beltsova was born in Latvia. During the years of training, she met the artist Roman Suta, who became her husband and associate. Together they traveled to Berlin, where they met many avant-garde artists, and to Paris, where they participated in exhibitions along with Picasso and Le Corbusier. Continue reading →
Different people perceive works of art differently, and the viewer's point of view can radically differ from what the artist himself put into his work. And many famous paintings have interesting stories that allow you to look at a picture or sculpture from a completely new perspective.
1. Manneken Pis
Those who have ever been to Brussels must have seen one of Belgium's most notable attractions – the Manneken Pis sculpture. As the name suggests, she portrays a little boy pissing in a fountain. Archival records show that the original sculpture was installed in 1388. Then it was a stone statue that served as a public fountain, but it was either destroyed or stolen at some point. The "Manneken Pis" in its current form was designed and installed by the Flemish sculptor Jerome Duchenoy in 1619. Continue reading →
The happiness of family life and the happiness of self-realization in one's beloved business are eternal values ​​that existed back in the days of the Ottoman sultans and musketeer swords. True, what has become the norm in the modern world was once a rarity and a great success. Simon and Virginia Vue worked side by side, helping each other in creativity and at the same time enjoying family happiness – and this is an example as beautiful as short-lived.
Simon Vue and his steps to success
The fate and vocation of Simon Vue lined up quite predictably. Continue reading →
Self-portrait in most cases is an instrument of narcissism, an attempt to leave your image in eternity. But if a genius takes up the matter, his image on canvas can turn into a real masterpiece, which not only perpetuates the appearance of the master, but also puzzles, surprises, fascinates the viewer. For centuries, some of these self-portraits have been knocked out of the familiar notion of this genre, while not losing either their fans or the attention of researchers.
1. Jan van Eyck, "Portrait of the Arnolfini Couple" Continue reading →